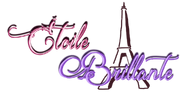 Étoile Brillante (エトワールブリランテ, Étoile Brillante?) is a cute-typed brand mainly used by Suzune Chika. The designer of Étoile Brillante is a French resident, living in Paris and producing the dresses from there. Étoile Brillante's Romance Story is Rapunzel and its Dream Story is Robin Hood. The brand's appeal is called "Peaceful Sunset".
Background
Concept
The aura of traditional Paris caught inside original designs, suited for cute and elegant young girls. Brings out the lady in every idol with cute flower patterns and western clothes.
Top Designer
Known Users
Cards
Coords
Ad blocker interference detected!
Wikia is a free-to-use site that makes money from advertising. We have a modified experience for viewers using ad blockers

Wikia is not accessible if you've made further modifications. Remove the custom ad blocker rule(s) and the page will load as expected.