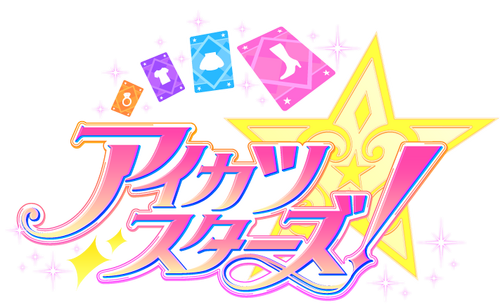 Aikatsu Stars! (アイカツスターズ!, Aikatsu Stars!?) is the new spin-off series of the original Aikatsu series, which started airing in 2012. It will have the same mechanics as the original story, while having all new characters, brands and a whole new school.
Aikatsu Stars! Season One (2016 - 2017)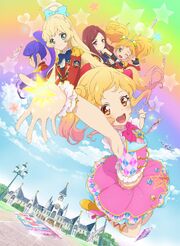 The first season will start airing in spring 2016. The season introduces many new characters, including the new main character, Nijino Yume. Yume and her fellow idol friend, Sakuraba Laura attend the idol academy, the Four Star Academy. Also, a new idol unit, S4 is introduced.
The new idols are:
Aikatsu Stars! Second Season (2017 - 2018)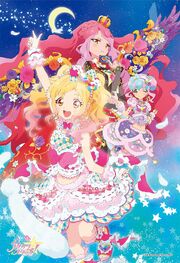 The second season of Aikatsu Stars! started airing in April 2017. The season introduces a new idol school, the Venus Ark, whose headmistress is the perfect idol Elza Forte. As well as the new idols and the school, also new brands will make their debut. The new idols are:
Elza Forte: The headmistress and owner of Venus Ark. She is a perfect idol, who wants to "plunder" the best idols all over the world. Her primary brand is Perfect Queen.
Hanazono Kirara: A new idol from New Zealand. She is a pop-typed idol attending Venus Ark, who is the new muse of the brand Fuwa Fuwa Dream.
Kizaki Rei: Elza's secretary, who also attends Venus Ark. She is a cool-typed idol.
Along with the Venus Ark, a new idol system has reached Japan. With the new system, the wing accessory from the original Aikatsu! returns to the Aikatsu Stars! universe, as well as also having the new theme of planets.

Aikatsu Stars! Brands
Ad blocker interference detected!
Wikia is a free-to-use site that makes money from advertising. We have a modified experience for viewers using ad blockers

Wikia is not accessible if you've made further modifications. Remove the custom ad blocker rule(s) and the page will load as expected.