the Fire flame Coord ( 火災の炎) this is a coord made by
Choko Fujimoto
this outfit is part of her brand which is called
Naturela spindarela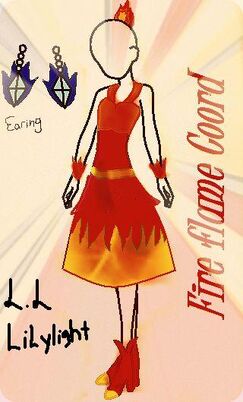 This design was the 2nd creation of the newcomer with was consist of yellow silk cloth and ruby red cloths and a little bit of orange cloth this outfit consist of Sexy type cloths the passions of one itself . The blue fire earrings were made out of sapphire and the diamond was from a blue diamond the Flaming hair peace the outfit looks like it's actually on fire but its not .
Ad blocker interference detected!
Wikia is a free-to-use site that makes money from advertising. We have a modified experience for viewers using ad blockers

Wikia is not accessible if you've made further modifications. Remove the custom ad blocker rule(s) and the page will load as expected.