| | |
| --- | --- |
| | Ichigo Hoshimiya is free to be improved for expanding or adding your fan series! |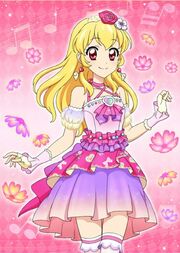 Ichigo Hoshimiya (星宮いちご, Hoshimiya Ichigo?) is the protagonist of the first generation of Aikatsu!. Ichigo decided to attend Starlight Academy along with her best friend Aoi Kiriya after watching one of Kanzaki Mizuki's stages in the first episode of the anime. Ichigo is a cute typed idol who uses the brand Angely Sugar. Ichigo happens to be the daughter of Masquerade's Miya and some people consider her as a prodigy idol. Ichigo is part of the units Soleil, 2wingS, STAR☆ANIS and Aikatsu8.
As of the Aikatsu! Movie, idol has surpassed Mizuki's rank in the Aikatsu! ranking and has become the new top idol.
Appearances
She is the leader of Star☆Anis shine, and is chosen to be so by the other members.
Ichigo has a minor appearance in Aikatsu Dive!. She and Seira have a special appearance in episode 16, which celebrates the 25th anniversary since 2wingS was formed in 2014. Seira and Ichigo get to perform their song Shining☆Days together.
See also