Jian Liang-He
簡亮荷
Jiǎn Liàng-Hé
Description
Age
16
Birthday Date
September 30th
Gender
Male
Hair Color
Brown
Eye Color
Periwinkle
Home Place
Shanghai
Relatives
Mother, father and older sister
Voice Actor
Zhang Hans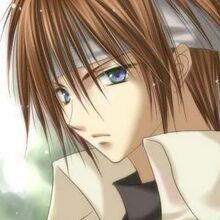 Jian Liang-He (簡亮荷) is a member of the Chinese animated boyband ZMX. His image color is violet.
Personality:
Liang-He is a part-time model, part-time singer who is obedient, stoic, rebel-type and a bit sassy, due to his diva looking personality. He is one of the fierce members of ZMX, besides Qiang-Li.
As representing himself as the group's diva, he loves fashion, especially foreign-designed fashion.
Relationships:
He is close with Qiang-Li, due to their personalities becoming similar. They have a tight relationship for each other and care for each other.
Songs:
朋友们/Friends
触气息 (Touch The Breath), duet with Qiang-Li
Ethnology:
簡 means simple
亮 means bright
荷 means lotus
So his full name means simple bright lotus
Trivia:
He is the only member who has a part-time job.
He is one of the members to only have one solo song, because his voice actor Zhang Hans is an actor.
Ad blocker interference detected!
Wikia is a free-to-use site that makes money from advertising. We have a modified experience for viewers using ad blockers

Wikia is not accessible if you've made further modifications. Remove the custom ad blocker rule(s) and the page will load as expected.