The Jolly Witch Coord (ジョリーウィッチコーデ?) is a pop-type coord designed by Firanzia Vice Ronaldi for Hoshiakari Arisa to use.
Coord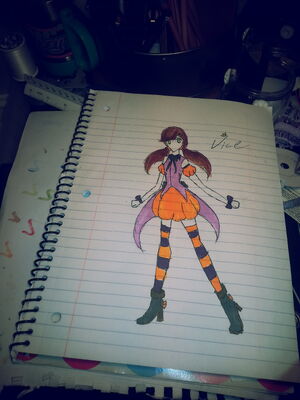 Top
The top consists of a light purple sleeveless vest with darker purple lapels. There is a loose, black bow tied around the neck. The vest has a tailcoat on it, and there are lacing details on the sides with small black bows on each side of the hip. At the mid-upper arm there are orange puff sleeves with a black ribbon on the top of them.
Skirt
The skirt for this coord is quite simple, being just an orange bubble skirt.
Boots
The boots of the coord are short wedge-heels with a dark orange belt on the tops. The heel and underside are the same dark orange color. On the back of the heel is the same lacing pattern as the sides of the vest, but with a bright orange bow. The boots are paired with thigh-high socks that are orange and dark-purple striped.
Accessories
The accessories for this coord are a pair of dark purple bow wristlets and a cute orange criss-cross shaped hair pin.
DISCLAIMER
This Coord was designed specially for FairySina, and as such is ONLY allowed to be used by her, unless she gives you permission.
Trivia
This is the only Premium Rare Coord to not belong to any brand.