The Lavender Star Coord (ラベンダースターコーデ, The Lavender Star Coord?) is a Coord appearing in Aikatsu! B&W. It made it debut together with Mikami Akemi. She used during her first audition in the anime, she was wearing this coord.
Coord
NOTE: These Coords are not mine. They are made by and belong to Sunrise. I only put them together to a new coord.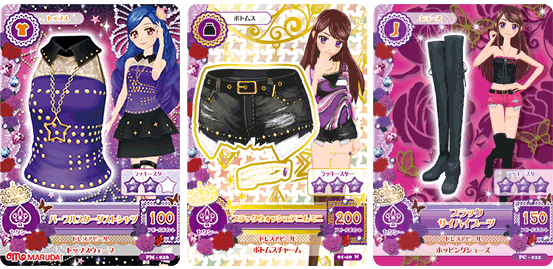 Lavender Star Top
A sark purple, sleeveless top with golden dots on it. A golden necklace hangs over it with a star-shaped pendant. A black collar is tied around her neck and also has golden dots on it.
Lavender Star Shorts
Black denim mini shorts with small rips in worn sections in front, as well as the white pocket sections showing from the bottom. The pants have tiny golden studs that line each leg, and the pockets. The belt is black with gold detailing, and the mini shorts come with a white leg piece that has a purple gem in the center.[1]
Lavender Star Boots
Above the knee, leather boots with black lacing going up to the knee on the outer sides.[2]
References
Ad blocker interference detected!
Wikia is a free-to-use site that makes money from advertising. We have a modified experience for viewers using ad blockers

Wikia is not accessible if you've made further modifications. Remove the custom ad blocker rule(s) and the page will load as expected.